Reformer Pilates and More
Take Reformer Pilates in Smithtown at Precision Pilates, a fully equipped classical Pilates studio located in Nesconset NY
Choose Your Session Type
What session type is best for you?
Do you prefer the camaraderie of a small group Pilates class or do you want individual attention all to yourself? Choose a Pilates session format that best suits your fitness goals and your personality.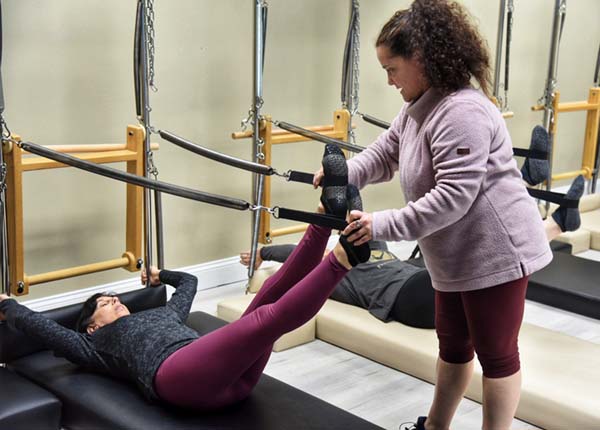 Semi-Private Pilates Sessions
Each semi-private Pilates session is a scheduled session with a small group of 5-6 participants, where you will always use the spring-driven equipment.
The semis are designed to pair participants who are at the same level where you get a lot of personal feedback and individualized attention with your Pilates practice. Depending on the class type, you will work on Pilates Reformer, Tower, Mat and Chair while also utilizing small props.
Even though some of our clients call this a "Pilates group class", this session offers semi-private experience with plenty of hands-on cues, corrections, and vigilant attention to your safety and proper form.
Private Pilates Sessions
You will work one-on-one with our highly trained teachers where you will have our undivided attention. 45 minutes of customized instruction that is all about YOU ~ your body and your goals. You will begin your first session with a health intake. Each lesson will be personalized to give you a strong foundation, help you gain new skills, and work towards your goals. You will get an introduction to Pilates apparatus including the renowned Pilates Reformer and Tower/Cadillac. At the end of the initial intro lessons, you and your instructor will make a plan for you to continue your practice to reach your fitness and wellness goals.
Find Your Favorite Pilates Class Type (Semi-Private Session)
We know, it's hard to pick favorites. At Precision Pilates in Nesconset / Smithtown we teach Classical Pilates and believe that all Pilates apparatus should be used to gain full body-conditioning benefits from the method. Below, we explain in more detail what each type of apparatus class entails so that you know what to expect during each session.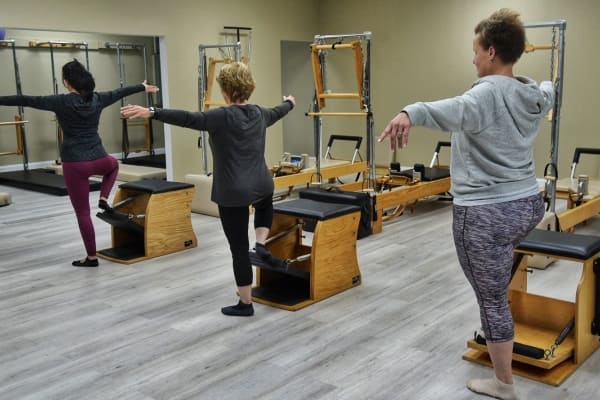 Apparatus Pilates Class
Clients are given the opportunity to train in small groups with one of our experienced and knowledgeable instructors. These sessions provide clients very focused, attentive and tailored goal-oriented workouts for maximum efficiency on all the apparatus.
---
Classical Reformer Pilates Class
Straps are placed on the hands and or feet while the carriage pushes and pulls the body using springs for resistance. Professional athletes and dancers utilize reformer classes to improve their flexibility, muscular strength, explosiveness and mind-body awareness. Try a Classical Reformer class today and find out why the professionals utilize this class for whole-body efficiency.
---
Mat Pilates Class
Mat classes come in a variety of styles and are typically the first step in your Pilates training although it is easily the most difficult when performed properly at the highest levels. Continue working toward your ideal in our Classical Mat classes today.
---
TOWER Pilates Class
Pilates exercises are performed on a raised padded mat. Movements come from the core while springs create resistance isolating muscles in the arms and legs strengthening and stretching while increasing range of movement for a good stretch. Precision Pilates teachers will motivate you while tending to individual needs in this encouraging group class atmosphere.
The BIG 5
Get to know Pilates Apparatus that you will use in your sessions at Precision Pilates & Wellness
The Mat
Simple it seems, but Ever so challenging ….
Here you achieve your ideal form in strength with elegance crafting the perfect you.
The Reformer
The world's essential strengthening, lengthening, lean machine to help you become stronger and more slender. Transform ,concentrate, take control with Pilates reformer classes.
The Wunda Chair
Not just any chair.
Simply the most versatile chair ever invented.
Push
Pull
Snake and twist your core.
One word…Wunderful
The Ladder Barrel
Time to stretch.
Really stretch.
Discover gravity while you take stretching to a whole new level.
Now this is how you Flex.
The Cadillac/Tower
The Ultimate Fitness Machine
Take Breathe.
You have been training weekly, grab your Poles
This is Fitness Elevated
Get Started with Reformer Pilates in Smithtown and Nesconset
Precision Pilates is located on the border of Smithtown and Nesconset, within a short drive to Lake Grove, St James, Centereach, Hauppauge and other towns in the Western part of Suffolk county, Long Island. This location is ideal for local Pilates fans who would like to take Pilates classes or private sessions. Our clean and pristine studio is fully equipped with classical Pilates apparatus including Reformers, Towers, Chairs, Mats, Ladder Barrel and smaller Pilates props. To put it simply, we have everything you need to reach your fitness and wellness goals. Whether you are looking for private sessions or group Pilates classes, Precision Pilates in Smithtown has options that will help you find your new favorite workout. Get started with one of our new client packages (choose semi-privates, private sessions or a combination of the two to get the best of both worlds) to discover the positive change that Pilates can bring to your life. We look forward to meeting you.