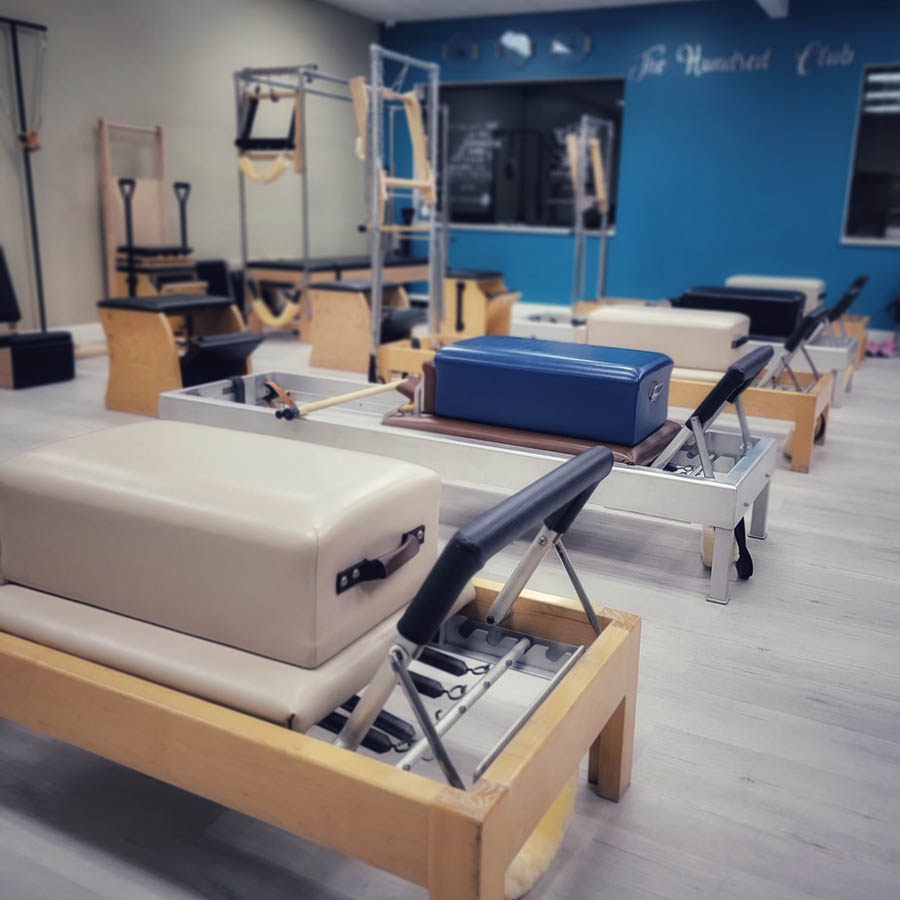 Welcome to Precision Pilates
Premier Classical Pilates Studio and Teacher Training Center
Precision Pilates studio near Smithtown offers a safe environment for you to reconnect to you, and focus on making you the best you can be.
The studio is an escape from everyday life. You will hear people laughing and groaning all at the same time. The studio is a judgment-free zone, where every day is a different day, and students do what they can at the moment.
Start with Pilates Today!
Precision Pilates Diference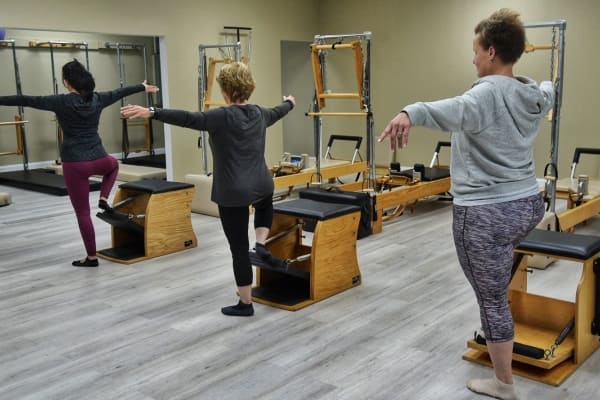 Pilates Equipment
Our Studio is equipped with traditional Pilates equipment including reformers, Pilates mats, towers, chairs, ladder barrels, and a pedi-pole. Plus all the small equipment: magic circle, step barrels, toe-gizmo, foot corrector, balls, and weighted bars.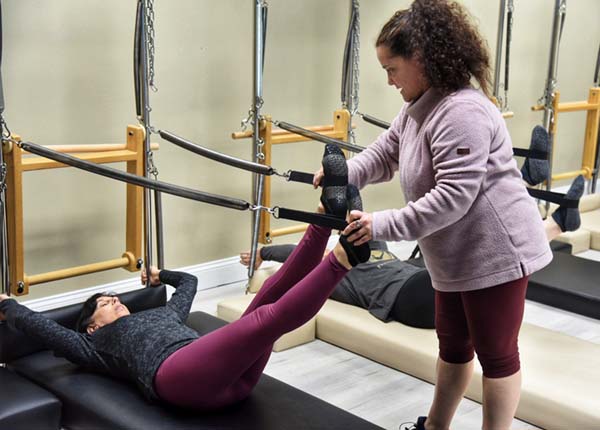 Tailored to YOU
Your workout will be tailored towards you, your needs, and your conditions. It will energize you, challenge you, and restore you. Pilates will be everything you need to help you get to where you need to be in your body and mind.
Classical Pilates
Each session follows the Classical Pilates method that has been around for over a century since "uncle Joe" created it. It is a highly effective series of movements that will help you feel better, have more energy, and get stronger.
Meet Our Pilates Teachers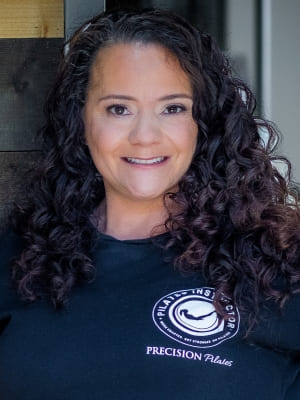 Amy Hirsch,
Studio Owner, Power Pilates® Certified Instructor, Power Pilates ® Teacher Training Host & Instructor Trainer in Training.
Amy Hirsch is "the" Classical Pilates Instructor on Long Island. Amy Hirsch is the Owner of Precision Pilates and Wellness and her Pilates studio is Long Island's only Power Pilates® Host Studio and teacher-certification center for Power Pilates® of New York City.
Living in Smithtown NY with her husband and 2 children, Amy has dedicated her heart and soul, to sharing the beauty of Pilates and movement. She is a Pilates certified instructor in Nesconset, NY and has been teaching Classical Pilates full-time since 2006. With clients, she program designs custom workouts for each client based on their specific goals and needs. Her teaching style is direct, motivating, and encouraging, with an emphasis on good technique, alignment, and control. Amy also mentors and will be certifying the next wave of Classical Pilates Teachers with Power Pilates® of New York City.
Originally from Farmingdale, Amy is a graduate of Adelphi University with a baccalaureate in Exercise Science and a post-baccalaureate in Clinical Exercise Physiology. Amy holds numerous certifications through the gold standard in the industry American College of Sports Medicine.
Amy Hirsch is a Teacher Training candidate for New York's renowned Power Pilates® Teacher Training® program where she studied in New York City under Susan Moran-Sheehey, Bob Likens, and Lesley Levy.
In 2023 Amy embarked on becoming Pricing Overhaul® Coaching certification. Amy helps other small businesses dig deep into their numbers, create pricing to support their ideal life/schedule, and become profitable. The Precision Pricing Overhaul® 12-week coaching program is her signature offering. Amy specializes in boutique fitness and the Equine Industry.
In her free time, Amy enjoys sewing, gardening, running and spending time with her daughter Rachel, son Jarod, and husband Ari. You may read full Amy's story here.
Stephani D. Silverman,
Pilates Teacher
Stephanie D. Silverman was certified in the Authentic Pilates Method at the Pilates Studio of New York by Brett Howard and Sean Gallagher.  Her knowledge of the body comes from her background in classical ballet and modern dance as well as her work as an Acupuncturist and Massage Therapist. She has been teaching Pilates in NYC and Long Island for 18 years. Her favorite quote from Joseph Pilates is
"You will feel better in ten sessions, look better in twenty sessions and have a completely new body in thirty sessions."

Joseph Pilates
Pilates Education: Classical Pilates Comprehensive Training
Jen Ward,
MAcOM, Dipl.OM, L.Ac.,CAP
Pilates Teacher
Jen Ward started "Rolling like a Ball" to Winsor videos in her Brooklyn apartment in 2000 and soon began Classical instruction at Happy Now Flat Belly. As a dancer until age 20, Jen was excited to find movement like Pilates that helped to transform her body. Pilates also helped her decrease stress and she was soon found sneaking out at lunch during work to group reformer classes. Jen loved the body/mind results and noticeable changes in her breath patterns so she started her teacher training in 2010 with Core Pilates NYC, Momentum and then found Jessica Schultz and Peak Pilates when healing from an injury and overwork.
She got to see Pilates through a different lens when her body initially couldn't perform even beginner movements. As she healed, became stronger and then started a training program, Jen became more inspired than ever to share this work as a health practitioner. As a Pilates Instructor, Chinese Medicine & Ayurvedic Practitioner and Women's Hormonal Health Coach Jen is excited to present and teach this self care health system of body, mind, and spirit with clients. When Jen is not at the studio she is working one on one with Women's Health clients .She is a passionate volunteer with service dogs but is currently raising puppy Sunna the Golden Retriever for her family. Jen is a foodie and avid traveler with one more US state to go.
Pilates Education: Peak Pilates Level 3, Momentum Comprehensive, Core Pilates Mat NYC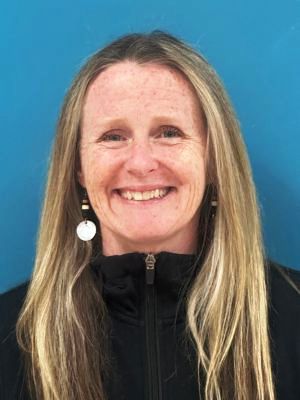 Katie Delgado,
Pilates Mat Instructor
Katie is a lover of all things sports. She plays softball, volleyball, and soccer, and is working on learning pickleball. In college, she played Rugby and she loves to snowboard. She took up running for a while and ran the NYC marathon in 2015. After too many injuries, she started Pilates in 2017 with Amy and loved how it made her body feel better all around. She wanted to learn more about the craft and help others feel better with Pilates so she completed her Pilates certification. She is working on teaching Barre next.
When not at the studio, Katie works full-time in technology. She has helped build a staffing and software development company, Crossfire Consulting, over the past 23 years. She is a mom to three teenagers and two dogs.
Pilates Education: Power Pilates Core Mat 1, Barre with Beyond Barre.
Kelly Cummings,
Pilates Instructor
Kelly Cummings has been working in the Health and Fitness Industry for over 20 years. She has been certified through Physical Mind Institute since 1999. Kelly's love for movement brought her to the Feldenkrais Method in 2005. In addition, she also is yoga certified, and a Reiki practitioner. Kelly is great at bringing all these methods together to give an optimal experience for the student's needs.
Pilates Education: Physical Mind Institute Comprehensive Training, the Feldenkrais Method.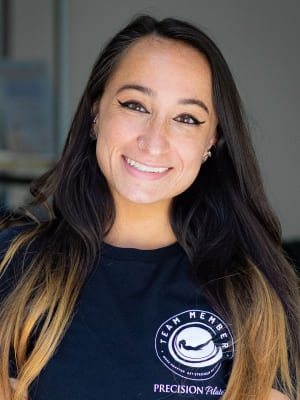 Melanie Bogdanowich,
Pilates Mat Teacher, Barre Teacher and Client Happiness Specialist
Melanie has been dancing for 22 years and has been a dance instructor for 7. She fell in love with fitness all together and wanted to explore the world of Pilates. She instantly became hooked and wanted to broaden her horizons even more with becoming an instructor. Melanie says her goal of being an instructor is to help people love Pilates and fitness, just as much as she does and hopes to inspire the clients who come in. In her free time, you can find Melanie outside doing various activities like hiking, bike riding, ect.

Pilates Education: Core Mat 1 with Power Pilates, Barre with Beyond Barre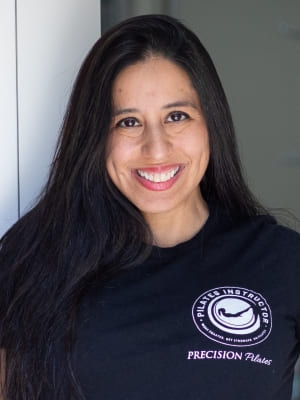 Jennifer Aguilera,
Pilates Mat Instructor, Power Pilates Apprentice
Before becoming a fitness instructor, Jennifer was a competitive gymnast and college cheerleader at St. John's University in Queens. Being in sports all her life, broadened her world into coaching where she soon began coaching gymnastics and cheerleading of all ages.
As she got older, she became interested in coaching a new population of clients with a new skill set. She received her full mat pilates certificate with the classical Power Pilates program in NYC in 2017. Interested in adding more, she continued learning and added more to her repertoire. She received her 200-hour yoga, kids yoga, prenatal yoga, and stand-up paddle board certifications all during the pandemic. She was recently accepted into the 2023 cohort for the 600-hour Power Pilates comprehensive program.
She believes that fitness always helps during, not only the happy but also the hard times. She loves coaching others and helping them feel great about themselves. When Jen is not in the studio you can find her playing with her kids or teaching as an adjunct professor.
Pilates Education: Power Pilates Mat Certified
The Story of Precision Pilates
2001
I began my Pilates Journey. I was working at the Mid-Island Y JCC in Plainview. Pilates just came to the mainstream. We had an instructor from NYC come in to teach Pilates mat for us. She was very unreliable and would cancel often, and without notice. Since I had a dance background. I signed myself and another instructor up for a mat certification with Physical mind.
2002
After leaving the JCC, I started moonlighting at local studios around the island. I then went on to get certified by Power Pilates, in their mat program. After settling in Smithtown, I decided there was so much more to Pilates, and wanted to know the work better and learn the equipment. I made the leap and went through the equipment certification through Power Pilates. I started teaching at Golds Gym, Simply Pilates, and Pilates Center of Long Island. I realized quickly, I did not like "gym" Pilates.
2012
After realizing I was missing too many milestones with my children, I decided to work for myself and hang a shingle as they say and "LLC"-ed Precision Pilates and Wellness.
Precision Pilates has evolved over the years. Personal training and mat were our mainstays to start. The universe was in line with me, I found a reformer on Craigslist for a steal. Investing in Springboards, and small props so my clients can "feel the Power" of the springs, our tiny studio grew, and grew.
2016
I ramped up my offerings with small group classes and the rest is history. I was busy, I was steady. I hemmed and hawed about getting space outside the home. I looked, I looked but never found the space that felt like home. I kept my eyes open for good deals on used equipment and began to amass a small studio in a storage unit for the "One Day."
2020
Fast forward to March. COVID hit and we shifted to Virtual. I never worked harder in my life to keep people going, create some normalcy, to give them solace in routine. I left props, mats, and weights on the front porch for members to borrow. Made bulk orders on anything I could get my hands on. We did it though.
In June we were supposed to open up, NYS pulled the plug. Then in July, they said we could open outside. I moved 3 Reformers to my back porch and hoped for the best, it would be for a short time. I ordered towers for the reformers for a better Pilates experience
It was an instant success. We followed all the mandates, temp checks, hand sanitizing, affidavits, masks, 6 feet apart. The studio was growing. We moved another reformer to the porch and added Wunda chairs. NY State said we could go inside…. I was not ready yet for anyone to be tracking in and out of my home. So we stayed outside. I ordered heaters, I sewed clear plastic blinds (thanks mom for sending me for sewing lessons in 3rd grade). We made it work. Members wore gloves, layers, and we tried not to talk about temperature. NYS announced we can go 3 feet apart. We added a 5th Reformer.
Spring came, we added oscillating fans. Summer came, we handed cold eucalyptus towels out. No one wanted to go inside this was our Oasis.
2021
AND I knew it was time to start looking. I finally found home. It was more space than I needed (2000 sq. ft), and with COVID still looming, I was nervous, I was scared, it would have been easier to stay comfy. But it was time. Making you Strong from the inside and Lovely on the out.
2022
Became a Power Pilates Host studio for internationally recognized Pilates teacher training and certification. Grew our teaching team to include a variety of instructors from different classical Pilates teaching schools. We now offer over 40 Pilates classes every week and are open 7 days a week. We have helped over 500 clients transform their lives through Pilates.