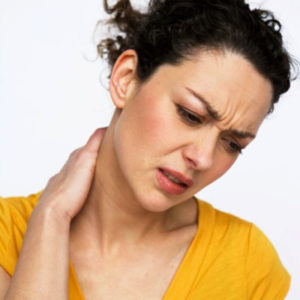 Do you have chronic neck pain, limited range of movement in your neck, fused cervical vertebrae, or other neck issues? The Pilates Method of exercise may be the perfect form of exercise for you.
Often times, people with neck problems give up exercise all together because popular exercises can exaggerate their pain and leave them frustrated without seeing any results.
If you are someone who has been dealing with neck pain or problems, know that just one session with a qualified Pilates instructor may change your views of exercise completely.
The Pilates method of exercise is a total body exercise. It works the entire body and is completely adaptable. Exercises can be designed to create strength, balance, and flexibility in your body without causing more pain in your neck.
In fact, many clients find that their Pilates practice helps them create balance in their body. This, in turn, reduces neck discomfort and leaves them feeling an overall sense of well being. By concentrating on specific movements and breath, the Pilates Method of exercise is great stress relief as well.
If you are interested in trying out the Pilates method of exercise here are a few quick tips:
1.  Ask about your instructor's background, teacher training and their experience working with your specific issues. This will help you find an instructor who is a good fit for you.
2. Make sure you fill out your health form completely and keep your instructor informed on how exercises feel in your body. Your feedback will help your instructor fine tune exercises so you get the most benefit in your body.
3.  Start off with private sessions. Although private sessions are more expensive than group classes, they are essential. Especially if you have physical pain or are overcoming an injury or chronic problem.  Private sessions will allow you to learn the method specific to your body so that you are able to get the maximum benefits and not aggravate any existing conditions.
4.  If you want to work into group classes, just let your instructor know.  Your instructor can teach and prepare you to learn how to modify exercises for your body so that you can safely and easily integrate into small group classes.  Your instructor can also give you suggestions on which type of class might be the best fit for you.
5.  Talk to your health care providers (doctor, physical therapist, chiropractor, etc.) and let them know what you are doing.  Most Pilates instructors welcome the chance to work together with health providers when planning your Pilates sessions.